CarbonWork,

LOCAL PROFESSIONAL CARBON FIBER REPAIR TEAM
The Ontario Government has listed bicycle repair as an
essential
service and we are open for business to support the
cycling
community
in North America
See below taken from the official list of Businesses listed as essential service.
6. Motor vehicle, auto-supply, auto and motor-vehicle-repair, including bicycle repair, aircraft repair, heavy equipment repair, watercraft/marine craft repairs, car and truck dealerships and related facilities;
We will also continue to monitor COVID-19 CORONAVIRUS and are still accepting bikes for repair we have the proper
precautions
in place to protect our clients. We want to help our
customers
with
their carbon
repair
issues
and you are free to drop off and pick up your carbon bikes and wheels
Rest assured we will help you through this time as always at CarbonWork
With over 10 years of service throughout North America that comprises of the following:
12,985 carbon bike frames, and wheels repaired.
11,956 carbon motorcycle fairings repaired.
9,250 carbon automotive parts.
8,152 carbon marine parts and luxury yacht repairs.
We are the industry leader of carbon repair throughout North America and we also offer complete custom paint projects on all bike frames both metal and carbon from simple paint, powder coating, hydro-graphic print to air brush processes. We offer complete turn key solutions as well, for we will strip, build and tune your bike.
We at CarbonWork Provide Comprehensive Testing and Repair Services on all carbon repairs throughout North America.
We follow the ASTM Standard Test Process, and include thermal imaging magnification as well.
We perform testing which complies to the Electrical NDT Testing with the addition of performing thermal imaging magnification on all carbon frames and forks with test set up pictures, and full test reports emailed to all of our clients. This comprehensive and scientific test report confirms if the damage is cosmetic or structural details the extent of the damage, and the exact repair method.
We provide several re finishing options for all repairs from a raw carbon application to complete factory original finish including stripes, decals, and paint match with final clear coat.
This testing CarbonWork provides as a service to our clients, is used for major insurance claims for our clients throughout North America in the boating, motorcycle , automotive and bicycle industries.
Good Science and Engineering Testing Services are essential for the development of our improved epoxy formulations and carbon fiber layout process. This helps us constantly improve our repair methods for our clients no matter the industry.
Feel free to email pictures of the damage at the following email below and we promise to respond quickly because as cyclists ourselves, we understand that you need to be back on the road as quickly as possible.
Contact Us at
carbonwork@msn.com
Phone number 905-338-0989 Office
Cell number 905-464-8710
_____________________________________________________________________________________________________________________________________
News Flash for 2020 CarbonWork is now the official carbon repair
specialists
elected to the
National Cycling Centre in Hamilton, (NCCH) working to support the racing team by repairing carbon road bikes and working with the Manager/Head Coach Rick Lee.
CarbonWork is also official carbon repair
specialists to provide carbon repair services working with Scott Kelly, Chief Mechanic at Dundas Speed Cycle, supporting both National and Professional Teams, under the UCI, NRC, and Mountain Bike World Cups.
We have five divisions within CarbonWork
1) Bicicletta, Bicycle Division: We offer complete carbon repair and re finishing services on bicycle, frames and wheels, offer complete custom paint projects on carbon fiber bicycle frames and forks, powder coating services on metal frames and forks, and we provide complete factory decal replacements for Pinarello, Colnago, Bianchi, Specialized, Trek, Cervelo, and all the major brands including Mountain bikes OEM's
2) Macchina, Automotive Division: We offer after market repair re service and clear coat carbon fiber automotive parts and assemblies for Ferrari, Austin Martin, BMW, Mercedes, and other key automotive brands.
3) Motociclo, Motorcycle Division: We offer repair sand and re clear and offer complete custom paint projects on all Motorcycle carbon fairing parts and offer complete paint, decal stripe services and assembles for BMW, Ducati, Yamaha, and other key motorcycle brands
4) Barca, Marine Boat Division: We offer Electrical NDT testing services, repair and re finish carbon fiber yachts, masts, small and large marine boats to serve the marine division as well as carbon fiber canoes and kayaks.
5) Carbon Composite Engineering Design and Manufacturing Division, We offer Structural Design prototype engineering solutions for the industrial, commercial, automotive, marine and medical device industry. We provide engineering design testing, prototype build and Integrity testing as part of a total service solution.
___________________________________________________________________________________________________________________________________
What is new in Carbon Fiber, we are starting to use Dyneema Carbon fiber with our Uni-Directional carbon fiber, this material is ultra lightweight with high strength to weight ratio. The material is comprised with Polyethylene plastic particulates and is very strong and durable. This Dyneema Carbon fiber combined with our uni-directional carbon fiber and nano epoxy will provide our customers with carbon repairs that are stronger than ever and more durable over time.
________________________________________________________________________
CarbonWork offers a life time warranty on all their repairs.

___________________________________________________________________________
CarbonWork offers several re finishing options from basic raw carbon repair to Factory Original Finish
___________________________________________________________________________
We are now entering the winter months for the 2020 season, we are now providing quick turn around on carbon repair and re finishing services, in most cases within 7-14 days.
Now is the time to think about custom paint projects for your bike, applying new clear coats and basic overall paint touch ups, replacing factory decal as well.
It is the perfect time to book your custom paint project at CarbonWork with our state of the art paint booth facility and carbon re finishing all under one roof only at CarbonWork.
We now offer Complete Carbon Frame Restoration Package, Complete Frame Painting Service, or Factory Paint Match and Custom Frame Paint Projects. We are the only Bicycle Carbon Frame Repair and Custom Paint Shop in the industry with a quick completion time guarantee.
We also offer brand new painting technology called, Hydro-Graphic Liquid Carbon Print Services with 1500 film and print patterns for your bike which will transform your frame to nothing less then spectacular within 14 days. It will transform the ordinary into the Extraordinary with this one of the kind new State of the Art Paint Service.
Our custom paint team can also add a ceramic clear coat a newly developed protection system which will provide that extra strength and durability for your newly painted bike.
We can apply Professional Stickers and Decals for any Make or Model Bike Manufacturer around the world or produce your custom personalized decals and stickers.
We serve clients across North America and also out of Province with Professional and Quick Repairs because we know you want to ride your bike as soon as possible!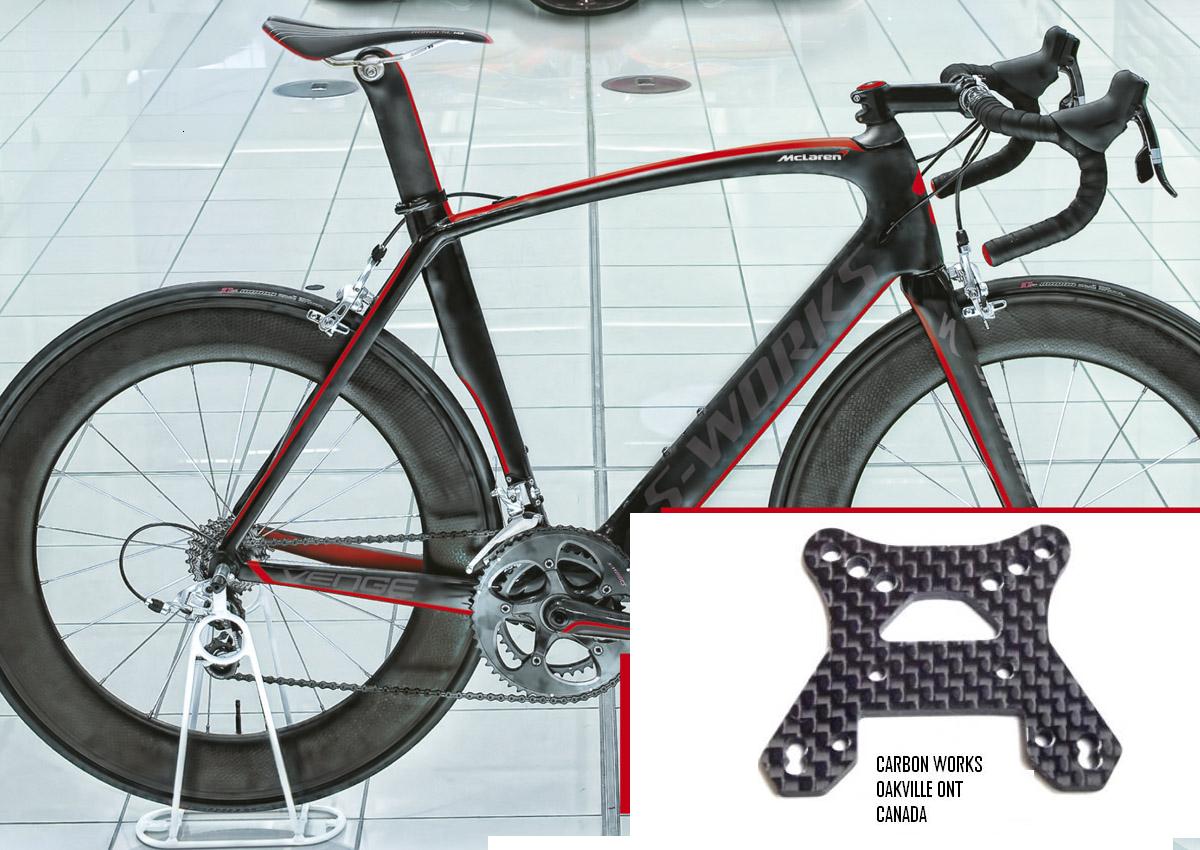 About Us! We are a Local Canadian Company in Oakville, Ontario, Canada
We are reliable professionals with over 30 years of experience in Carbon Fiber Repair on all Carbon Road Bike Frames, Wheel Sets and Accessories. We listen to our customers and work with them to address their needs through innovative solutions.
Customer Repair Process
1st Step: Email Picture of Damaged Area.
2nd Step: We will contact you and provide initial estimate
3rd Step: Send Carbon Component for Final Estimate and repair.
4th Step: We will provide final estimate of cost and date of completion.
5th Step: Repair Carbon Component, add clear coat or re-paint, add decals to provide professional finish.
History
We initially started providing aftermarket carbon component parts in the automotive industry. We are now offering our clients carbon fiber repair on various Carbon Components, Carbon Road Bikes, Motorcycles, Carbon Wheel-Sets and any carbon repair regardless of the application.
CarbonWork is the leading carbon repair specialists in Canada, that specializes in bicycle carbon repairs and custom, unique, paint services.
Email Address: carbonwork@msn.com
Phone number: 905-338-0989