CarbonWork, Canada

LOCAL PROFESSIONAL CARBON FIBER REPAIR TEAM. WE FIX CRACKED, BROKEN, CARBON FIBER
We are the only company in North America that can perform Electrical NDT Testing on your carbon bike, provide you with test set up pictures, complete test report, and repair action plan
with re finishing options within 24 hours.
Please use email below at the following address and include pictures of the damage and we will respond quickly
Cell number is as follows 905-464-8710
Office number is 905-338-0989
We welcome the New Year 2023, with great anticipation and thank all of our clients in the past for their support and continued referral channel.
Now is the time to get your bike touched up paint repair and restoration or a complete custom paint project before new riding season.
Proudly Canadian Serving our clients throughout our great nation.
Please check out our Instagram account below we posted pictures for all examples of carbon fiber repairs on carbon fiber bicycles, carbon fiber motorcycles, carbon fiber yachts, carbon fiber automotive parts, and everything made with carbon fiber
Instagram account:
anthonysilvestri9939
At CarbonWork Canada, We are fully operational, and proudly offering safe and social distanced service and all precautions are taken during this time to keep our clients and ourselves safe.
Rest assured we will help you through this time as always at CarbonWork
With over 15 years of service throughout North America that comprises of the following:
12,985 carbon fiber bike frames, and wheels repaired.
11,956 carbon fiber motorcycle fairings repaired.
9,250 carbon fiber automotive parts.
8,152 carbon fiber marine parts and luxury yacht repairs.
We fix all things Carbon fiber and up to the challenge to provide carbon fiber repair services to all industry sectors.
We continue to provide carbon fiber repair service and have serviced customers from all across Canada in every province as noted below
Alberta
British Columbia
Manitoba
New Brunswick
Montreal
NewFoundland and Labrador
Northwest Territories
Nova Scotia and even
Nunavut
Ontario, which includes London, Hamilton, Niagara, Toronto, Barrie, Waterloo, St Catharines, Markham, Woodbridge, Aurora, NewMarket, Ottawa, Kingston, Bradford, in fact of all Ontario
We are the industry leader of carbon fiber repairs throughout North America and we also offer complete custom paint projects on all bike frames both metal and carbon from simple paint, powder coating, hydro-graphic print to air brush processes. We offer complete turn key solutions as well, for we will strip, build and tune your bike.
With all carbon fiber repairs we offer several re finishing options from basic repair re finishing to Factory Original Re finishing , which includes, stripes, complex decal replacements and complex colour schemes.
Electrical NDT Testing can be performed on any bike that you are interested in purchasing as a extra set of eyes prior to purchasing a second hand bike so we can confirm the integrity of the carbon, the strength and overall durability of the carbon bike frame so you can make a wise purchase decision.
Carbon can spider from a small crack and can cause excessive damage if not repaired, even paint chips and gouges in carbon can lead to carbon fractures.
We at CarbonWork Provide Comprehensive Testing and Repair Services on all carbon materials that is used in several industrial and consumer applications throughout North America.
Anthony Silvestri, Co Founder at CarbonWork Canada, has extensive knowledge of engineering, working formerly at Ortech Ontario Research Centre, Bodycote Testing Group, as Engineering Test Materials Specialist and worked on several engineering research projects at the University of Toronto.
We follow the ASTM Standard Test Process, and include thermal imaging magnification as well.
We perform testing which complies to the Electrical NDT Testing with the addition of performing thermal imaging magnification on all carbon fiber frames and carbon fiber forks with test set up pictures, and full test reports emailed to all of our clients. This comprehensive and scientific test report confirms if the damage is cosmetic or structural details the extent of the damage, and the exact repair method.
We provide several re finishing options for all repairs from a raw carbon fiber application to complete factory original finish including stripes, decals, and paint match with final clear coat.
This testing CarbonWork provides as a service to our clients, is used for major insurance claims for our clients throughout North America in the boating, motorcycle , automotive and bicycle industries.
Good Science and Engineering Testing Services are essential for the development of our improved epoxy formulations and carbon fiber layout process. This helps us constantly improve our repair methods for our clients no matter the industry.
Feel free to email pictures of the damage at the following email below and we promise to respond quickly because as cyclists ourselves, we understand that you need to be back on the road as quickly as possible.
Contact Us at
carbonwork@msn.com
Cell Phone number 905-464-8710

Office number 905-338-0989
News Flash for 2022 CarbonWork is now the official carbon repair
specialists
elected to the
National Cycling Centre in Hamilton, (NCCH) working to support the racing team by repairing carbon road bikes and working with the Manager/Head Coach Rick Lee.
CarbonWork is also official carbon repair
specialists to provide carbon fiber repair services working with and supporting both National and Professional Teams, under the UCI, NRC, and Mountain Bike World Cups.
We have five divisions within CarbonWork
1) Bicicletta, Bicycle Division: We offer complete carbon fiber repair and re finishing services on bicycle, frames and wheels, offer complete custom paint projects on carbon fiber bicycle frames and forks, powder coating services on metal frames and forks, and we provide complete factory decal replacements for Pinarello, Colnago, Bianchi, Specialized, Trek, Cervelo, and all the major brands including Mountain bikes OEM's
2) Macchina, Automotive Division: We offer after market repair re service and clear coat carbon fiber automotive parts and assemblies for Ferrari, Austin Martin, BMW, Mercedes, and other key automotive brands.
3) Motociclo, Motorcycle Division: We offer repair sand and re clear and offer complete custom paint projects on all Motorcycle carbon fairing parts and offer complete paint, decal stripe services and assembles for BMW, Ducati, Yamaha, and other key motorcycle brands
4) Barca, Marine Boat Division: We offer Electrical NDT testing services, repair and re finish carbon fiber yachts, masts, small and large carbon fiber marine boats to serve the marine division as well as carbon fiber canoes and kayaks.
5) Carbon fiber Composite Engineering Design and Manufacturing Division, We offer Structural Design prototype engineering solutions for the industrial, commercial, automotive, marine and medical device industry. We provide engineering design testing, prototype build and Integrity testing as part of a total service solution.
________________________________________________________________________________________________________________
What is new in Carbon Fiber, we are starting to use Dyneema Carbon fiber with our Uni-Directional carbon fiber, this material is ultra lightweight with high strength to weight ratio. The material is comprised with Polyethylene plastic particulates and is very strong and durable. This Dyneema Carbon fiber combined with our uni-directional carbon fiber and nano epoxy will provide our customers with carbon repairs that are stronger than ever and more durable over time.
__________________________________________________________________
CarbonWork offers a life time warranty on all their repairs.

__________________________________________________________________
CarbonWork offers several re finishing options from basic raw carbon repair to Factory Original Finish
__________________________________________________________________
We are now entering the early spring months of the 2022 season, we are now providing quick turn around on carbon repair and re finishing services, in most cases within 7-14 days.
We can also provide ceramic clear coating applications for your frame and fork, to protect your frame and fork from paint damage, this ceramic coating process provides ultimate paint protection prevents chips and voids and surface damage that can lead to carbon break down.
Now is the time to think about custom paint projects for your bike, applying new clear coats and basic overall paint touch ups, replacing factory decal as well.
We also repair stone chip damage, gouges, and re clear the entire frame and fork in order to re fresh the look of your bike.
It is the perfect time to book your custom paint project at CarbonWork with our state of the art paint booth facility and carbon re finishing all under one roof only at CarbonWork.
We now offer Complete Carbon Frame Restoration Package, Complete Frame Painting Service, or Factory Paint Match and Custom Frame Paint Projects. We are the only Bicycle Carbon Frame Repair and Custom Paint Shop in the industry with a quick completion time guarantee.
We also offer brand new painting technology called, Hydro-Graphic Liquid Carbon Print Services with 1500 film and print patterns for your bike which will transform your frame to nothing less then spectacular within 14 days. It will transform the ordinary into the Extraordinary with this one of the kind new State of the Art Paint Service.
Our custom paint team can also add a ceramic clear coat a newly developed protection system which will provide that extra strength and durability for your newly painted bike.
We can apply Professional Stickers and Decals for any Make or Model Bike Manufacturer around the world or produce your custom personalized decals and stickers.
We serve clients across North America and also out of Province with Professional and Quick Repairs because we know you want to ride your bike as soon as possible!
Repaired carbon full suspension bike
Repaired my carbon full suspension mountain bike. cracks at both the bottom bracket and the top tube shock pivot Great communication and fair price. Repaired bike has been ridden hard for a full season, everything is still in great shape. Highly recommended.
Date of experience: October 26, 2021
Stevens Super Prestige
Anthony did a fantastic fix on the top tub of my hi-mod carbon Super Prestige CX bike. It included a detailed scan of whole frame to see if there were other areas compromised as well as regular communications during repair process. The finished product was excellent with a seamless finish. The bike has a new lease on life. So much better than having to buy a new frame. Thx.
Date of experience: April 14, 2022
LOOK 695
CarbonWork repaired, painted and created new decals for my LOOK 695. The results exceeded my expectations! Don't tell the folks at LOOK but the frame looks better now than it did when it was new.
Anthony took the time to understand what I was looking for and kept me updated with emails and photos. He is a perfectionist and takes pride in the expertise that CarbonWork brings to every project. I am confident in recommending CarbonWorks.
Date of experience: October 19, 2021
My 2014 Cervelo had seen better days…
My 2014 Cervelo had seen better days and required carbon repair on the chainstay, bottom bracket and rear wheel well. Anthony and the team at Carbonwork preformed non-destructive testing and repaired the areas that needed it. I chose to have my bike custom painted instead of restored to its original paint. The paint was matte grey with gloss blue accents and decals. The paint turned out great and you cannot see the areas of repair.
Brought my Devinci back to life
I noticed two cracks in my carbon frame. Instead of buying a new bike, Anthony at CarbonWork fixed the bike and then helped me design a new look for the bike. Five star work! And far less expensive than getting a new frame.

The turnaround time was a bit longer than I expected, but Anthony kept me in the loop each step of the way. And again, the bike is now gorgeous. Saved money, kept a bike I loved and have a fresh look for 2021. What more could I ask for?
Date of experience: March 20, 2021
Great Service, fast and trustworthy!
Service from the company is great. Black matte paint color was perfect that could not be noticed. Bike frame looks as new.
Anthony was fast in the communication and service. Great and recommend to anyone needing carbon service. He did a full scan of the frame to make sure it was 100% and sent the results the next day. Offered the options to fix the area that had an issue and delivered it back to me a few days later.
Date of experience: September 13, 2020
---
Road bike repair
My Giant TCR advanced was creaking/clicking after last season and I found a 3 inch crack under a seatstay. Anthony was very fast in responding by email. Frame was patched and both seatstay's painted black to match all within the quick time-frame provided. Email updates with pics and bike scan were also provided which was helpful in confirming the rest of the frame was in good shape. Bike sounds and feels great. Great service.
Date of experience: September 24, 2020
---
Carbon wheels repair....excellent!
In all my years of dealing with various companies and people, I must admit that I have never received the level of professional, informative, through and timely service that I got from Anthony Sivestri of Carbonwork. I had two carbon wheels to be fixed (Mavic tubular disc wheel and Easton tubular wheel) and both have been repaired flawlessly.

Thank you Anthony!
Date of experience: March 22, 2020
---
I had a chip in the frame of my road…
I had a chip in the frame of my road bike and Anthony was awesome in getting it fixed. After I sent an inquiry, Anthony sent full details around his processes, warranties and costs, making me feel very comfortable. I dropped the bike off and received countless pictures and updates through out the process. When i picked it up, it looked great and the turnaround was quick.

I hope I never damage another bike, but if I do, I wouldn't hesitate to bring it back to him.
Date of experience: October 01, 2020
_____________________________________________________________________________________________________________________________________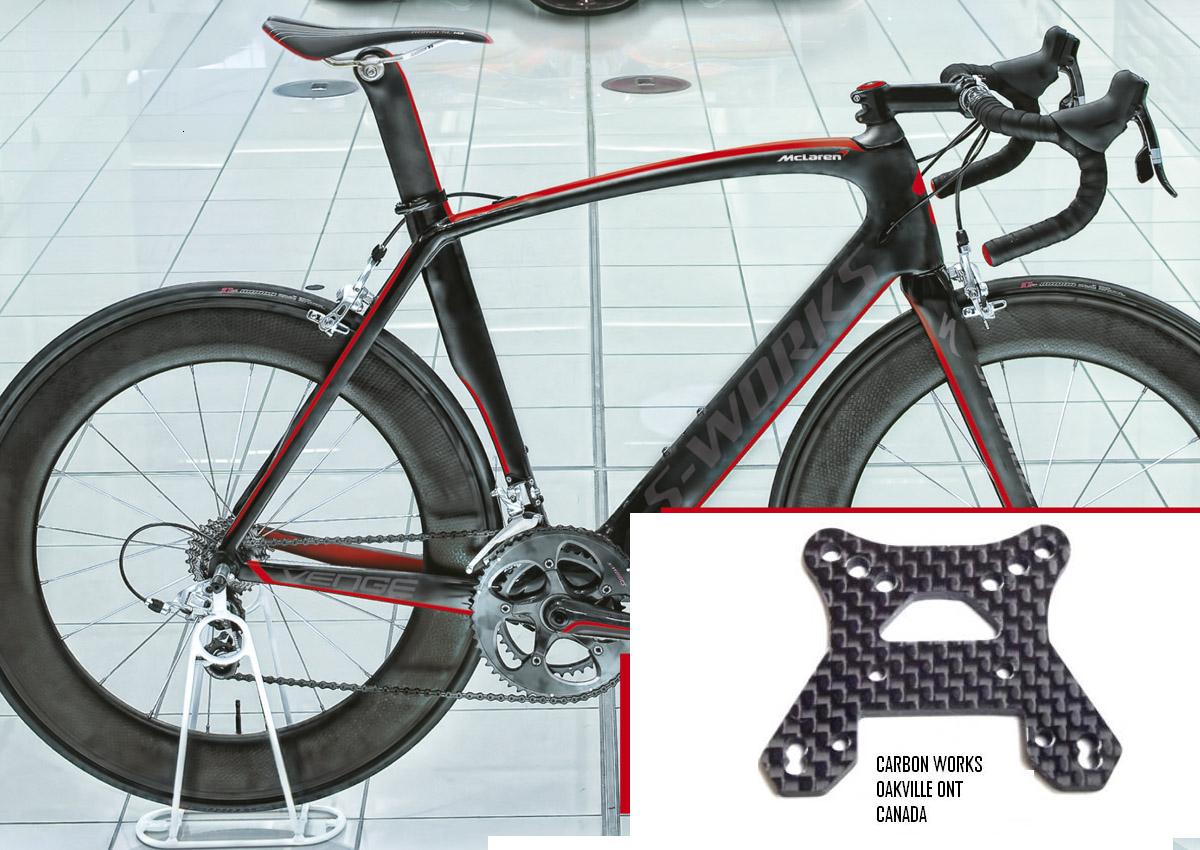 About Us! We are a Local Canadian Company in Oakville, Ontario, Canada
We are reliable professionals with over 30 years of experience in Carbon Fiber Repair on all Carbon Road Bike Frames, Wheel Sets and Accessories. We listen to our customers and work with them to address their needs through innovative solutions.
Customer Repair Process
1st Step: Email Picture of Damaged Area.
2nd Step: We will contact you and provide initial estimate
3rd Step: Send Carbon Component for Final Estimate and repair.
4th Step: We will provide final estimate of cost and date of completion.
5th Step: Repair Carbon Component, add clear coat or re-paint, add decals to provide professional finish.
hoHistory
We initially started providing aftermarket carbon component parts in the automotive industry. We are now offering our clients carbon fiber repair on various Carbon Components, Carbon Road Bikes, Motorcycles, Carbon Wheel-Sets and any carbon repair regardless of the application.
CarbonWork is the leading carbon repair specialists in Canada, that specializes in bicycle carbon repairs and custom, unique, paint services.
Email Address: carbonwork@msn.com
Phone number: 905-338-0989